BMW X3 Owners Manual: Rear head restraints
Correctly adjusted head restraint
A correctly adjusted head restraint reduces the risk of injury to cervical vertebrae in the event of an accident.
Adjusting the head restraint
Adjust the head restraints of all occupied seats properly; otherwise, there is an increased risk of injury in an accident.
Height Adjust the head restraint so that its center is approximately at ear level.
Adjusting the height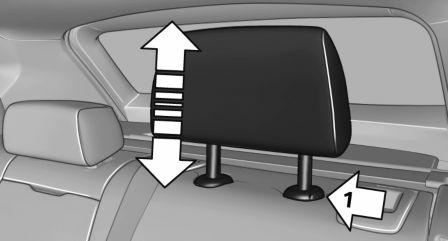 To raise: push.
To lower: press button, arrow 1, and push headrest down.
The center head restraint cannot be adjusted in elevation.
Removing
Only remove the head restraint if no one will be sitting in the seat in question.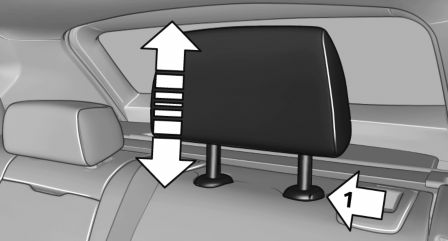 1. Raise the head restraint up against the resistance.
2. Press button, arrow 1, and pull the head restraint out completely.
The center head restraint cannot be removed.
Before transporting passengers
Reinstall the head restraint before transporting anyone in the seat; otherwise, the protective function of the head restraint is unavailable.