BMW X3 Service & Repair Manual: Replacing actuator drive of ventilation flaps
Necessary preliminary work:
Remove SUPPORT FOR DASHBOARD
Release screws (1).
Release plug connection (3) and disconnect.
Detach servodrive for ventilation flaps (2) in direction of arrow from heater/air conditioner.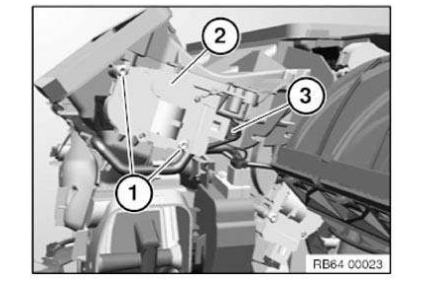 Replacement:
Servomotors must be readdressed in the event of replacement! Addressing can only be carried out with the BMW diagnosis system.
Service functions:
Body
Heating and air conditioning function
Flap motors
Readdress flap motors