BMW X3 Service & Repair Manual: Replacing a/c system compressor (N52)
Special tools required:
WARNING: Danger of injury! Refrigerant circuit is under high pressure! Observe the safety information for handling the R 134a refrigerant . Avoid contact with refrigerant and refrigerant oil.
FOLLOW SAFETY INSTRUCTIONS FOR HANDLING REFRIGERANT OIL !
IMPORTANT: Risk of damage! Restart engine only when A/C system has been correctly filled.

Read and comply with notes on compressor replacement .
FOLLOW NOTES FOR OPENING AND REPLACING PARTS IN REFRIGERANT CIRCUIT .
If Air conditioning is opened for more than 24 h:
Replace desiccant insert for heating and air conditioning system
IMPORTANT: Aluminium-magnesium materials.

No steel screws/bolts may be used due to the threat of electrochemical corrosion! A magnesium crankcase requires aluminum screws/bolts exclusively! Aluminium screws/bolts must be replaced each time they are released! The end faces of aluminum screws/bolts are painted blue for the purposes of reliable identification.

Jointing torque and angle of rotation must be observed without fail (risk of damage)!
Necessary preliminary work:
DRAIN OFF AIR CONDITIONING SYSTEM Remove alternator DRIVE BELT
Remove coolant thermostat
Release and disconnect plug connection (1) at A/C compressor.
Release screws (4).
Remove intake pipe (2) and pressure line (3).
Installation note:
Replace sealing rings.
Use special tool 00 9 030 to mount sealing rings without damaging them.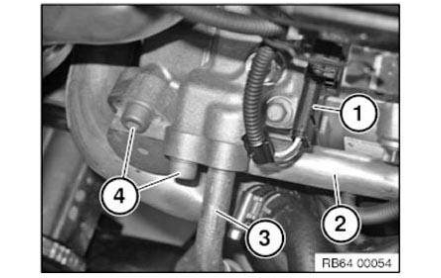 IMPORTANT: Seal openings or lines on compressor with special tool 32 1 270 to prevent escape of media and dirt contamination.
NOTE: Secure compressor (3) against falling out.
Release bolt (2) and if necessary remove with bush behind.
Release screw (1).
Remove compressor (3) towards front.
Installation note:
Make sure bushes are installed correctly.
If necessary, replace faulty bushes.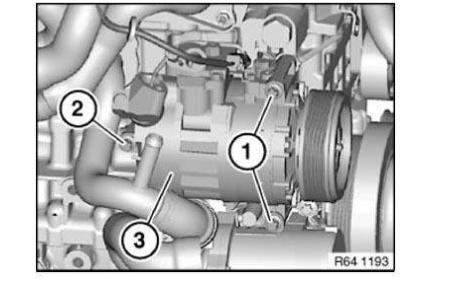 Replacement:
Adjust the amount of refrigerant oil in the new compressor.
IMPORTANT: Danger of compressor damage! Danger of customer complaints due to reduced cooling power of the Air conditioning! Before the installation of the new compressor, it is absolutely necessary to adjust the amount of refrigerant oil in the new compressor! The safety information must be observed .
After installation:
EVACUATE AND FILL HEATING AND AIR CONDITIONING SYSTEM