BMW X3 Service & Repair Manual: Front axle suspension
REMOVING AND INSTALLING/REPLACING FRONT UNDERBODY PROTECTION
NOTE: Illustration only an example. Detail deviations, depending on engine version, are possible.
Unfasten screws (2).
Remove front underbody protection (1).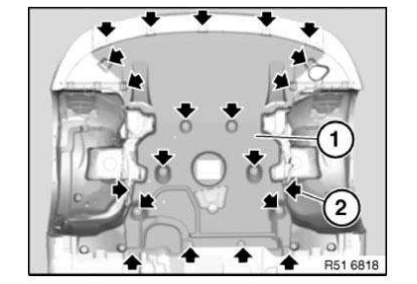 REMOVING AND INSTALLING/REPLACING REAR UNDERBODY PROTECTION
NOTE: Schematic diagram created using the F25 28iX as an example. There may be differences in detail in the case of other models.
Release screws in area (1) and remove underbody protection (2).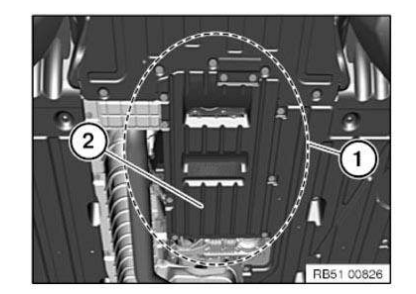 REMOVING AND INSTALLING/REPLACING REINFORCEMENT PLATE
IMPORTANT: Observe safety instructions for raising the vehicle Driving without reinforcement plate is not permitted!
Necessary preliminary work:
Remove UNDERBODY PROTECTION.
Release screws (1).
Remove reinforcement plate (2).