BMW X3 Service & Repair Manual: Removing and installing/replacing left or right trailing link
Special tools required:
31 2 242
31 2 246
31 2 240
Necessary preliminary tasks:
Remove FRONT WHEEL .
Remove UNDERBODY PROTECTION.
Partially loosen the LOWER WHEEL ARCH COVER (FRONT SECTION) .
IMPORTANT: Do not release trailing link from wheel control joint with impact tool! Check the rubber gaiter and circlip for damage! When removing and installing the trailing link, check the seat of the circlip seal between the trailing link and the wheel control joint and replace the wheel control joint if needed!
Release nut (1), if necessary, grip at inner Torx socket.
Installation note:
Replace self-locking nut.
Perform steering angle.
Release screw (2).
Installation note:
Rework thread in swivel bearing.
Replace microencapsulated screw.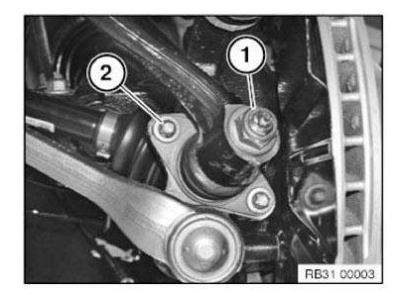 If necessary, screw nut (1) onto guide joint by a few turns.
If necessary, replace lower section 31 2 242 with lower section 31 2 246 Press trailing link out of the guide joint with special tool 31 2 240 .
Unscrew nut (1) and remove trailing link.
Installation note: Keep journal on guide joint and bushing in tension strut clean and free from oil and grease.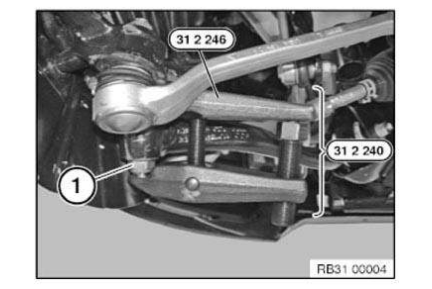 Release screws (1).
Remove holder for underbody protection (2).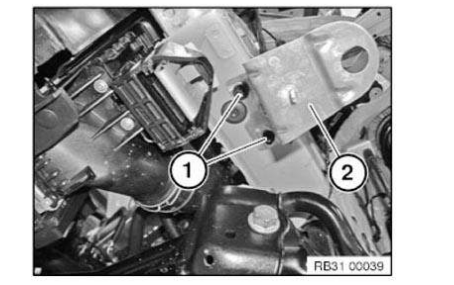 Slacken nut (1).
Remove screw towards front.
Remove tension strut.
Installation note:
Replace screw and nut.
Tighten down screw connection in NORMAL POSITION .