BMW X3 Service & Repair Manual: Removing and installing/replacing control unit for vertical dynamic control
IMPORTANT: Read and comply with notes on PROTECTION AGAINST ELECTROSTATIC DISCHARGE (ESD PROTECTION) .
Necessary preliminary tasks:
Remove ignition key.
Disconnect BATTERY NEGATIVE CABLE .
Remove FLAP IN LUGGAGE COMPARTMENT TRIM PANEL ON RIGHT .
Undo screw (1), release expanding rivets (2) and remove storage compartment.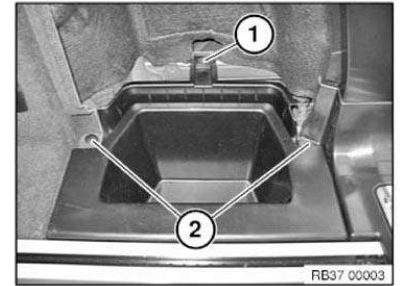 Unscrew nuts (1).
Unlock connector (2) and remove.
Remove control unit.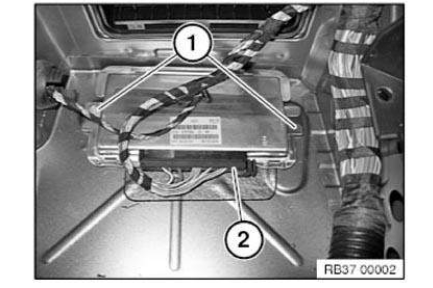 After installation:
Replacement only: Carry out PROGRAMMING/ENCODING .
Start up the VDM with the aid of the diagnosis system.
Replacement only: Carry out RIDE HEIGHT ADJUSTMENT.