BMW X3 Service & Repair Manual: Replacing gaiter for steering box on left or right
IMPORTANT: The hydraulic steering gear must be replaced if the polished surface of the rack is damaged (e.g. by corrosion)!
Necessary preliminary tasks:
Remove UNDERBODY PROTECTION .
Remove TRACK ROD END.
Clean track rod.
Release band clamp (1) and EAR CLIP (3).
Detach gaiter (2) from track rod.
Installation note:
Clean rack and check surface for damage (e.g. by corrosion).
Clean track rod and apply grease to taper.
NOTE: This ensures that the gaiter is not rotated when the track rod is rotated.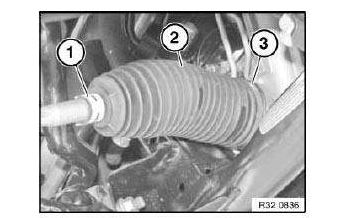 After installation:
Perform CHASSIS/WHEEL ALIGNMENT CHECK.