BMW X3 Service & Repair Manual: Removing and installing/replacing left or right track rod end
Special tools required:
NOTE: If the track rod end to track rod screw connection is released, it is necessary after reinstallation to carry out a wheel alignment check.
Necessary preliminary work:
IMPORTANT: Do not release track rod end from swivel bearing with impact tool.

Check rubber boot and sliding ring for damage.

Do not pull stainless steel ring off journal.

If renewing swivel bearing, check seal seat of sliding ring between track rod and swivel bearing, replacing track rod end if necessary.
Loosen nut (1), gripping inner Torx socket if necessary.
Press track rod end (2) with special tool 31 2 300 off swivel bearing.
Unscrew nut (1).
Installation note:
Keep track rod end (2) to swivel bearing connection clean and free from oil and grease.
Replace self-locking nut.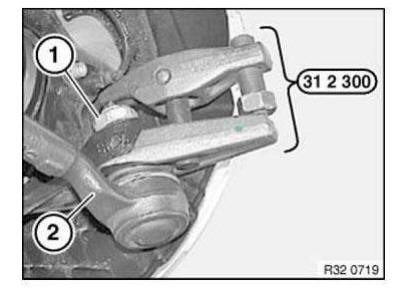 Determine dimension (A) to simplify following adjustment of front axle.
Loosen nut (1).
Screw off track rod end; if necessary, grip track rod with open-end spanner.
Installation note:
Check GAITER for damage, replace if necessary.
Screw track rod end onto track rod to dimension (A).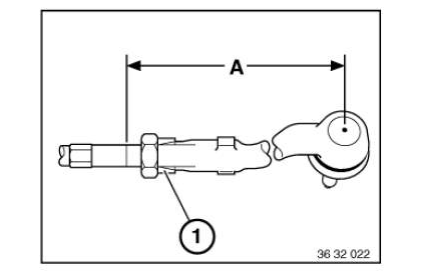 After installation:
Perform WHEEL ALIGNMENT CHECK.