BMW X3 Service & Repair Manual: Replacing (removing and installing) left or right track rod
Special tools required:
IMPORTANT: The steering box must be replaced if the polished surface of the rack is damaged (e.g. by corrosion)!
Necessary preliminary work:
Remove TRACK ROD END FROM SWIVEL BEARING.
Remove GAITER FROM STEERING BOX and slide back
IMPORTANT: To avoid damage to rack and to suspension mounting, move rack in as far as possible.
Unscrew track rod with special tool 32 3 160 from rack of steering box.
Installation note:
Clean rack.
Check surface of rack for damage (e.g. corrosion).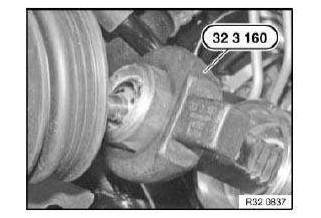 On replacement, assemble new part with gaiter:
Determine dimension (A) on used part to simplify following adjustment of front axle
Slacken clamping nut (2)
Screw off track rod end; if necessary, grip track rod with open-end spanner
Remove clamping ring (1) and screw off clamping nut (2)
Slide gaiter (4) and ear clamp and band clamp (3) onto track rod
Slide clamping nut (2) and clamping ring (1) onto track rod
Screw track rod end onto track rod to dimension (A)
Tighten down clamping nut (2)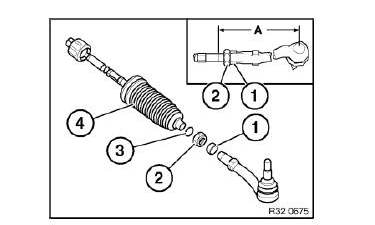 After installation: Only if replacing/removing track rod end: Perform CHASSIS/WHEEL ALIGNMENT CHECK.