BMW X3 Service & Repair Manual: Stationary wheel balancing
Special tools required:
Necessary preliminary tasks:
IMPORTANT: Use only BMW-approved balance weights.
Remove any fitted balancing weights, stones in tread pattern and larger dirt contaminations.
Check tire pressure and tire for condition, damage, flat spots (irregularities caused by e.g. parking of vehicle with tires which have run hot). If necessary, check WHEEL AND TIRE for radial and lateral runout.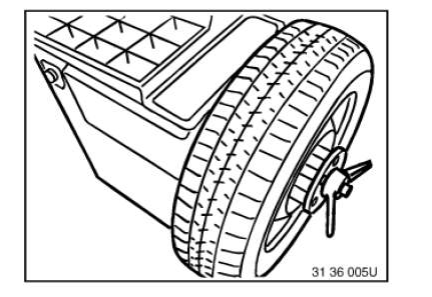 Use BMW-approved wheel centering elements of relevant balancing machine manufacturers.
Basic flange
Wheel centering element
Type flange
Clamping nut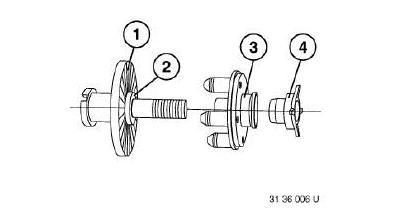 IMPORTANT: To avoid clamping errors, it will be necessary to fit the wheel on the balancing machine in the same way (e.g. valve facing down) as it is then fitted on the vehicle.

Balance wheel in accordance with operating instructions of relevant balancing machine.
On light-alloy rims with distinctive J-shape rim flange, proceed as follows:
Gently force off tire sidewall with special tool 36 1 020 at appropriate point from rim flange.
Install retaining clip (1).
Remove special tool 36 1 020 .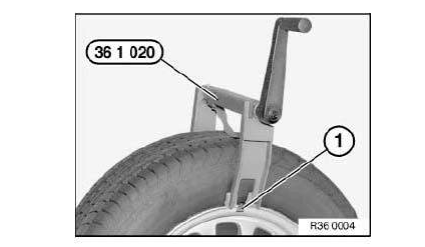 Raise retaining clip with special tool 36 1 010. Slide balance weight underneath and allow it to snap into place.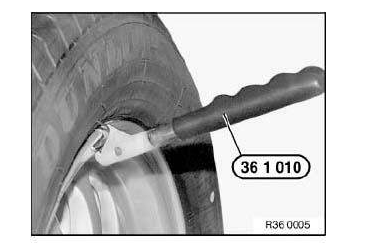 Arrangement of balance weights for light-alloy rims with distinctive J-shape rim flanges.
Retaining spring
Balance weight
Adhesive weights must be used on all other light-alloy rims.
Max. imbalance.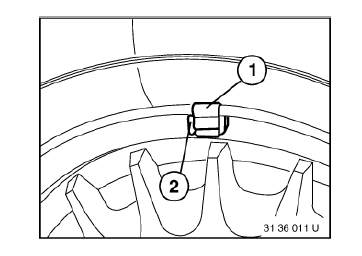 NOTE: When using adhesive weights, proceed as follows:
Carefully remove any adhesive weights. Do not damage wheel rim when doing so.
Select suitable location for fitting.
Clean adhesive area thoroughly.