BMW X3 Owners Manual: The concept
The ystem can help prevent accidents with pedestrians.
The system issues a warning in the city driving speed area if there is imminent danger of a collision with pedestrians and includes a braking function.
The camera in the area of the rearview mirror controls the system.
General information
In daylight the system warns of possible collisions with pedestrians at speeds from about 6 mph/10 km/h to about 35 mph/60 km/h shortly before a collision the system supports you with a braking intervention.
Under those circumstances it reacts to people who are within the detection range of the system.
Detection range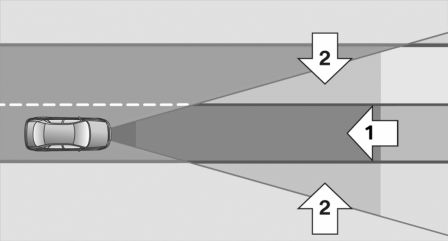 The detection area in front of the vehicle is divided into two areas.
Central area, arrow 1, directly in front of the vehicle.
Expanded area, arrow 2, to the right and left.
A collision is imminent if pedestrians are located within the central area. A warning is issued about pedestrians who are located within the extended area only if they are moving in the direction of the central area.