BMW X3 Owners Manual: The concept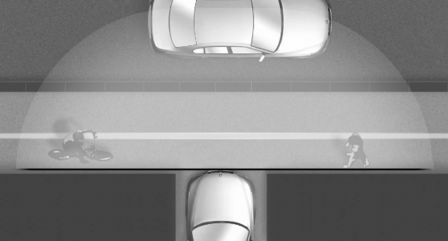 Side View provides an early look at cross traffic at blind driveways and intersections. Road users concealed by obstacles to the left and right of the vehicle can only be detected relatively late from the driver's seat. To improve the viewing, each camera, front and rear on the vehicle, detects the traffic area on the side.
Which camera is active is shown on the top edge of the screen.
Hints
The images of the cameras are displayed, depending on the gear selected, on the Control Display.
Check the traffic situation as well
Check the traffic situation around the vehicle on blind driveways and intersections with your own eyes. Otherwise, an accident could result from road users or objects located outside the picture areas of the Side View cameras.