BMW X3 Owners Manual: Glove compartment
Front passenger side
Note
Close the glove compartment again immediately
Close the glove compartment immediately after use while driving; otherwise, injury may occur during accidents.
Opening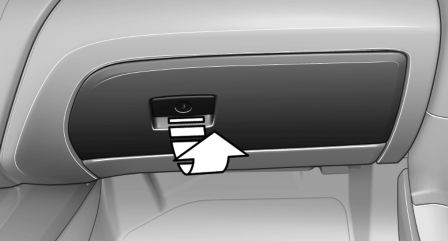 Pull the handle.
The light in the glove compartment switches on.
Closing Fold cover closed.
Locking The glove compartment can be locked with an integrated key. This prevents access to the glove compartment.
After the glove compartment is locked, the remote control can be handed over, such as at a hotel, without the integrated key.
Compartments in the doors
Do not stow any breakable objects
Do not store any breakable objects, e. g.
glass bottles, in the compartments, or there is an increased risk of injury in the event of an accident.