BMW X3 Owners Manual: Replenishing Diesel exhaust fluid yourself in exceptional cases
You can replenish reducing agent yourself in exceptional cases, e.g., to get to the service center.
Avoid contact with Diesel exhaust fluid
Do not come into contact with the reducing agent. Otherwise, skin or eye irritations may result.
Handling Diesel exhaust fluid
When working with reducing agent in closed spaces, ensure good ventilation. When the bottle or container is opened, acrid smelling fumes may eslide.
Keeping Diesel exhaust fluid out of reach of children
Keep reducing agent out of reach of children.
Avoid contact with surfaces
Avoid contact of reduction agent with surfaces of the vehicle; otherwise, damage could occur.
Suitable Diesel exhaust fluid
Preferred: BMW Diesel Exhaust Fluid. With this bottle and its special adapter, Diesel exhaust fluid can be replenished simply and safely.
Alternative: NOx reduction agent AUS 32 Diesel exhaust fluid can be purchased at your service center.
Refill quantity When the Reserve display starts, add at least 3 bottles of reducing agent.
This corresponds to approx. 1.5 US gal/6 liters.
Tank for reducing agent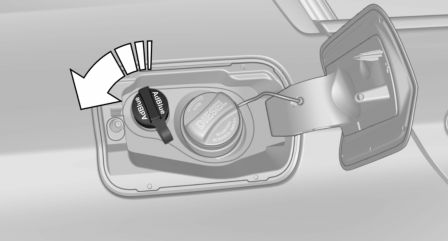 The tank for the reducing agent is located next to the fuel tank.
Adding the reducing agent Add the reducing agent when the ignition is switched on.
1. Open the fuel filler flap.
2. Turn the tank lid counterclockwise and remove.
3. Place the bottle on it and turn it as far as it will go, see arrow.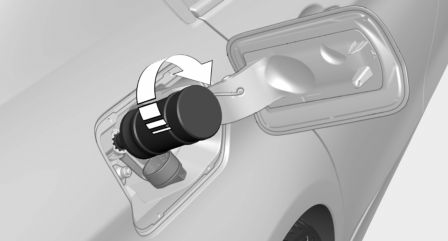 4. Press the bottle down, see arrow.
The vehicle tank will be filled.
The tank is full when the fill level in the bottle no longer changes. It is not possible to overfill.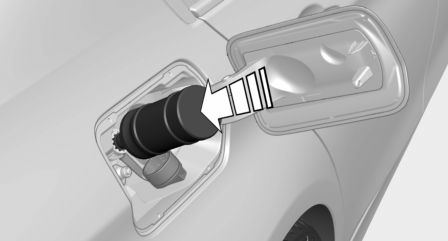 5. Pull back the bottle, see arrow, and unscrew it.
6. Replace the tank lid and turn it clockwise.
7. Close the fuel filler flap.
After adding Diesel exhaust fluid
Note
Incorrect fluids
After filling with incorrect fluids, such as antifreeze for washer fluid, do not start the engine, otherwise there is risk of fire.
Contact your service center.
Disposing of bottles

You take your empty Diesel exhaust fluid bottles to your service center for disposal.
Do not dispose of empty bottles with household waste unless this is permitted by local regulations.
Reserve indication

The Reserve display will still appear along with the remaining range after refilling.
Engine can be started.
After several minutes of driving, the Reserve indication goes out.
Diesel exhaust fluid on minimum

After filling, the indication -- is still displayed.
Only after the display goes out can the engine -- be started.
1. Switch on the ignition.
Display -- goes out after approx. 1 minute.
2. Engine can be started.