BMW X3 Owners Manual: Fuses
Hints
Replacing fuses
Never attempt to repair a blown fuse and do not replace a defective fuse with a substitute of another color or amperage rating; this could lead to a circuit overload, ultimately resulting in a fire in the vehicle.
Plastic tweezers and information on the fuse types and locations are stored in the fuse box in the trunk.
In the glove compartment
Swing the cover down, arrow.
In the cargo area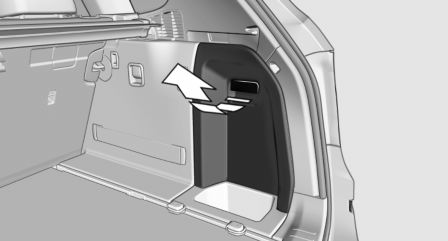 Open the cover on the right side trim, arrow, and remove the sound insulation.
Information on the fuse types and locations is found on a separate sheet.