BMW X3 Service & Repair Manual: Removing and installing or replacing brake booster
Necessary preliminary work:
Read and comply with GENERAL INFORMATION.
Remove left footwell trim .
Remove BRAKE MASTER CYLINDER.
Remove WIPER MOUNTING BRACKET .
Detach retaining clip (1) on brake pedal.
Pull out locking pin.
Unscrew nuts (2).
Installation note: Replace self-locking nuts.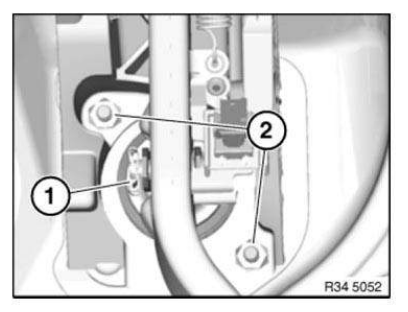 Release brake lines (1) from holder on bulkhead.
If necessary disconnect plug connection of vacuum sensor.
Pull vacuum line (2) out of brake booster.
Installation note: Check gasket, replace if necessary.
IMPORTANT: Do not use any force when removing and installing the brake unit; the brake unit can be damaged under certain circumstances.

Brake lines must not be bent.
Carefully pull brake booster (3) out of bulkhead and tilt out.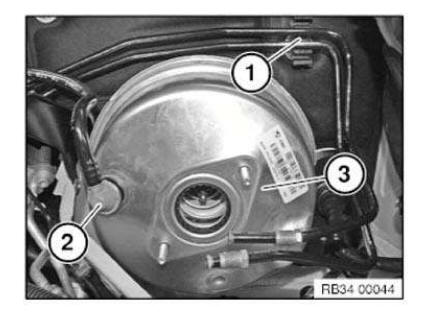 Installation note:
Make sure seal (2) is present and correctly seated.
The protective film on the connection of the vacuum line must be removed when replacing the brake booster!