BMW X3 Service & Repair Manual: Replacing vacuum hose for brake booster (diesel fuel)
Necessary preliminary tasks:
Read and comply with GENERAL INFORMATION.
Remove left TRAILING LINK .
REMOVE left partition wall for units compartment.
IMPORTANT: Before beginning repair work, fully press the brake pedal several times to reduce the vacuum pressure in the brake servo.
Pull non-return valve (1) in direction of arrow out of brake booster.
Installation note: Check seal in brake booster and replace if necessary.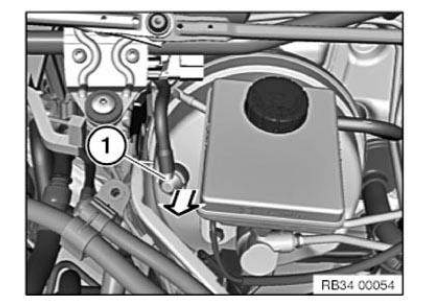 Disconnect snap fastener (1) and feed out vacuum line (2).
Installation note: Make sure that snap fastener (1) is correctly engaged.