BMW X3 Service & Repair Manual: Replacing flexible disc for front propeller shaft
Necessary preliminary tasks:
Remove PROPELLER SHAFT at transmission and center bearing.
Remove complete propeller shaft (F06, F10, F12, F13 - S63).
NOTE: To protect universal joints, tie back propeller shaft in area of center mount.
Release screws and remove flexible disc (1) from propeller shaft.
Tightening torque and angle of rotation 26 11 2AZ .
IMPORTANT: Replace ZNS bolts and self-locking nuts.

NOTE: On the F06, F10, F12, F13 - S63 a silicone flexible disc is installed instead of the conventional rubber part flexible disc.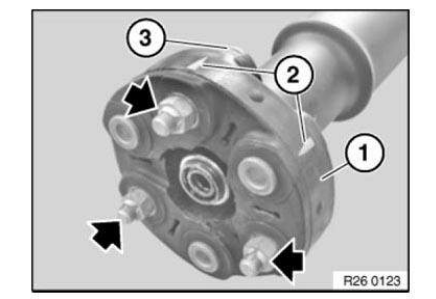 Installation note: During installation arrows (2) on circumference of flexible disc must point to flange arms (3).
NOTE: Instead of conventional rubber flexible disks, F series also use aluminium flexible discs, which are also called EGG (constant velocity joints).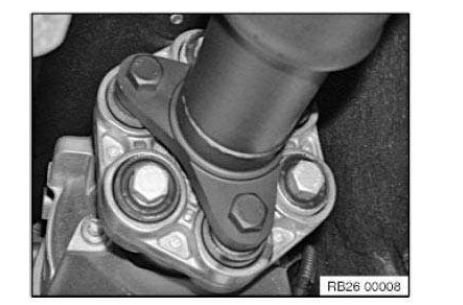 Installation note: Check centring mount.
Replace damaged CENTRING MOUNT.
Grease centring mount.