BMW X3 Service & Repair Manual: Replacing bearing for front wheel
Necessary preliminary tasks:
If necessary, remove visual protection cap (1).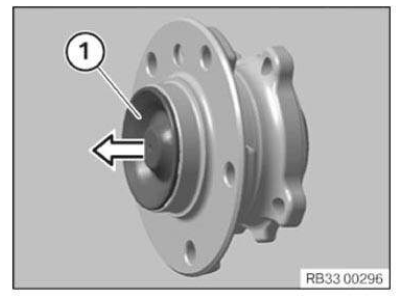 Release collar bolt (1), press brake pedal to floor for this purpose.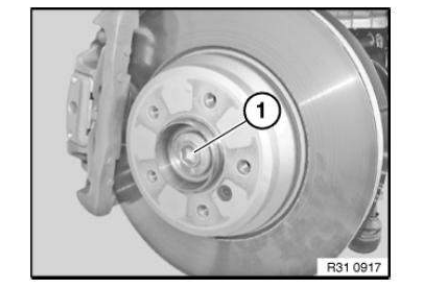 Installation note:
Renew collar bolt (1) and compression spring (2).
Pay attention to installation position of compression spring (2).
Keep collar bolt and spur toothing of bearing/propeller shaft clean and free of grease
Follow installation note of the spur gearing.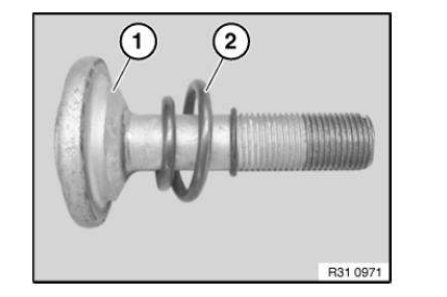 Remove BRAKE DISC .
NOTE: Check brake pad and replace if necessary!
Press output shaft on swivel bearing to one side slightly and release screws (1).
Remove bearing.
Installation note:
Replace screws.
Keep contact surface (2) of wheel bearing and swivel bearing clean and free from grease.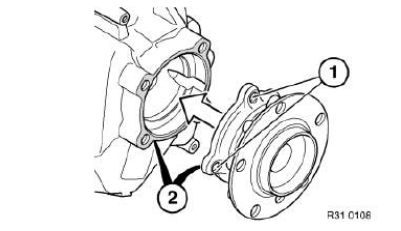 IMPORTANT: Note on installation for spur gearing must be observed without fail!
Installation note:
Spur gearing of bearing (1) and output shaft (2) must be installed form-fit (tooth in tooth)!
Tighten collar bolt and compression spring by hand.
Check whether spur gearing is locked tooth in tooth by reciprocally rotating wheel hub/output shaft.
Once a form-fit has been ensured, tighten to final torque.