BMW X3 Service & Repair Manual: Replacing rear cover gasket on rear differential (215LW)
WARNING: DANGER OF POISONING if oil is ingested/absorbed through the skin! RISK OF INJURY if oil comes into contact with eyes and skin!

IMPORTANT: In event of oil loss, always check rear differential for traces of wear and damage.

To avoid leaks from the rear differential cover, do not use a paper gasket in cars with liquid sealing compounds! To prevent the final drive oil from foaming over, make sure that no remnants of the liquid sealing compound are pressed into the rear axle final drive housing.
Necessary preliminary tasks:
Catch or draw off final drive oil.
Remove REAR AXLE FINAL DRIVE.
NOTE: Read and comply with REAR AXLE FINAL DRIVE: ASSIGNMENT TO MODEL SERIES.
Release screws (1).
Remove cover.
If necessary, remove remnants of liquid sealing compound with scraper.
Clean sealing face on cover and rear differential.
Installation note: If a paper gasket was fitted, a paper gasket or liquid sealing compound can be used.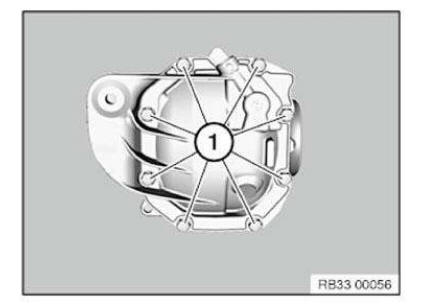 After installation: