BMW X3 Service & Repair Manual: Hypoid oils for final drive without disc-type limited-slip differential
Exception: E30/325iX differential with viscous self-locking differential.
Up to model year 07/2011:

As of model year 07/2011: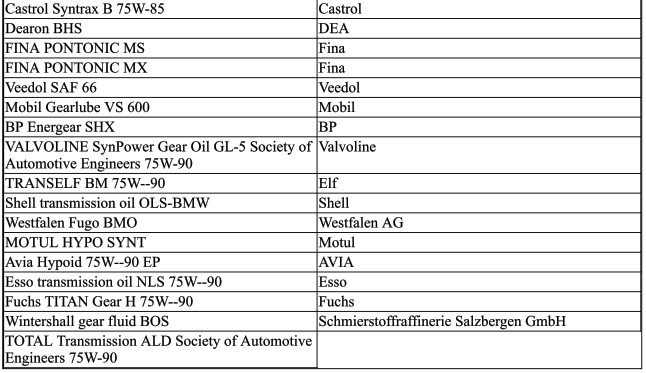 NOTE: The above oils satisfy the demands required of lifetime oils.
Oil change intervals are given in the vehicle-specific inspection sheets.
Before opening the container, "mix" the transmission oil to distribute the additives evenly through the oil.
General information about final-drive transmission oils
Final-drive and hypoid transmission oil must fulfil the following requirements for handling high loads as arise at the tooth flanks of the hypoid gear:
high load-carrying capacity
high degree of immunity from seizure
good protection against wear
optimum frictional behavior and temperature stability
compatibility with sealing materials
resistance to ageing
A brand-name hypoid transmission oil already possesses these and other characteristics thanks to its high concentration of EP agents (EP = Extreme Pressure).
Oil additives
All final drives are designed in such a way that there is absolutely no need to use oil additives. BMW is totally against the use of such additives. We will also accept no liability for any consequences resulting from the use of additives.