BMW X3 Service & Repair Manual: Removing and installing/replacing starter motor (N20, N26)
Necessary preliminary tasks:
Switch off ignition.
Disconnect BATTERY NEGATIVE LEAD .
Remove INTAKE PLENUM .
Unlock connector (1) and remove.
Release nuts (2) and disconnect positive battery cables.
Release screws (3).
Feed out starter motor and remove.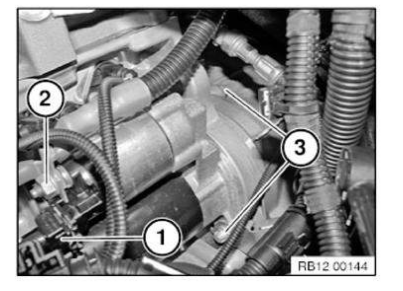 Installation note:
Check starter pinion and ring gear for damage. Replace starter motor if necessary.
Only during starter replacement and on vehicles with MSA (automatic engine start-stop function):
Use BMW diagnosis system to reset the starter counter.