BMW X3 Service & Repair Manual: Removing and installing/replacing starter motor (N47 D20 O1)
Necessary preliminary tasks:
Switch off ignition.
Disconnect BATTERY NEGATIVE LEAD .
Remove REINFORCEMENT PLATE .
Release nut (1) and remove cable.
Release nut (2) and remove the positive battery cable.
Release cable at clamp (3) from starter motor.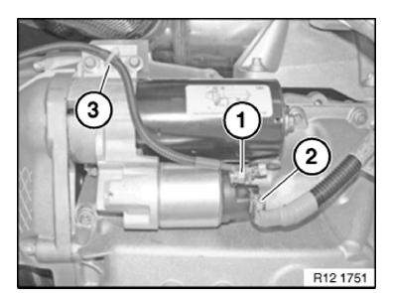 Release screws (1), (2) and (3).
Remove starter motor.
Installation note:
Observe screwing sequence.
Position and secure starter motor. Tighten down screws (1) and (2). Tighten down support screw (3).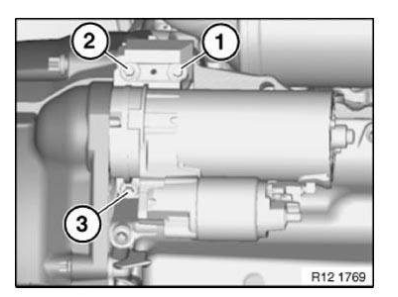 Installation note:
Check starter pinion and ring gear for damage.
Replace damaged starter motor.
Assemble engine.
Only during starter replacement and on vehicles with MSA (automatic engine start-stop function):
Use BMW diagnosis system to reset the starter counter.