BMW X3 Service & Repair Manual: Replacing section of wiring harness for injectors (N47 D20 O1)
IMPORTANT: Read and comply with notes on PROTECTION AGAINST ELECTROSTATIC DAMAGE (ESD PROTECTION) .
Necessary preliminary work:
Read out the fault memory of the DDE control unit.
Switch off ignition.
Disconnect BATTERY EARTH LEAD .
Remove INTAKE FILTER HOUSING .
Remove rear acoustic cover.
Remove sound insulation on injectors.
Partially release WIRING HARNESS for engine.
Release screws (1).
Detach coolant hose from cover of electronics box.
Remove electronics box cover (3).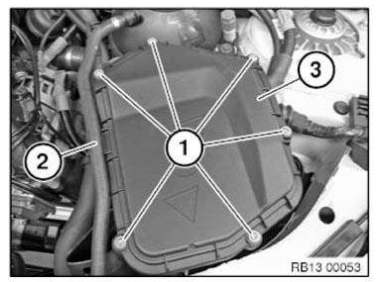 Unlock all connectors (1) from control unit and disconnect.
Detach rubber grommets (2) from electronics box. Place wiring harnesses to the side.
Installation note:
Make sure grommets are correctly fitted (watertightness).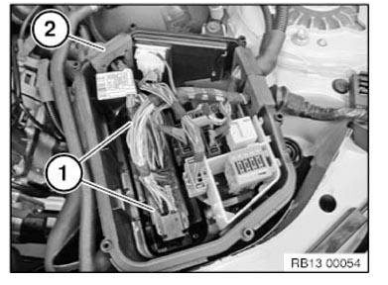 Release retaining element (1) in direction of arrow.
Press back socket (2) and remove wiring harness for injectors.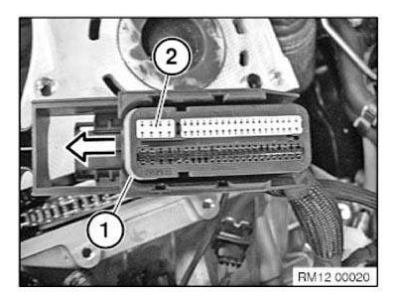 Unlock plugs (1) on injectors and disconnect. Release wiring harness from cylinder head cover, feed out and remove.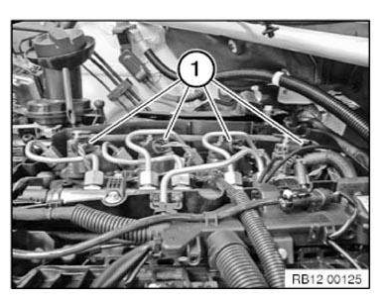 NOTE: Check wiring harness installation arrangement.
Check plug connections for correct fit.
Reassemble the vehicle.
Read out the fault memory of the DDE control unit.
Check and rectify stored fault messages.
Delete fault memory.