BMW X3 Service & Repair Manual: Replacing wiring harness section for ignition and injectors (N55)
IMPORTANT: Read and comply with notes on PROTECTION AGAINST ELECTROSTATIC DAMAGE (ESD PROTECTION) .
Necessary preliminary work:
Read out the fault memory of the DME control unit.
Switch off ignition.
Disconnect BATTERY EARTH LEAD .
Remove IGNITION COIL COVER.
Remove CLEAN AIR PIPE .
Remove REAR IGNITION COIL COVER.
Unlock rear plug (1) from the control unit and disconnect.
Release rear wiring harness from intake plenum.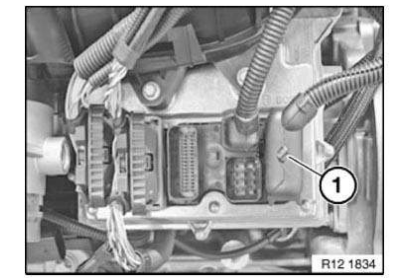 Release nuts (1) and remove earth cable.
Unlock all connectors from ignition coils and injectors and detach.
Unclip wiring harness (2), feed out and remove.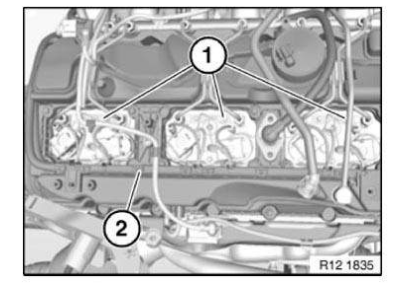 NOTE: Check stored fault messages.
Delete fault memory.