BMW X3 Service & Repair Manual: Removing and installing/renewing oil level sensor for engine oil (N55)
IMPORTANT: Read and comply with notes on PROTECTION AGAINST ELECTROSTATIC DISCHARGE (ESD PROTECTION) .
Necessary preliminary tasks:
Switch off ignition.
Remove REINFORCEMENT PLATE .
Drain ENGINE OIL .
Unlock connector (1) and remove.
Unscrew nuts.
Remove oil level sensor (2).
Installation note:
Clean sealing surface on oil sump.
Replace seal on oil level sensor.
An excessively low torque value will result in oil leaks.
An excessively high torque value will result in damage to the oil level sensor.
Top up engine oil.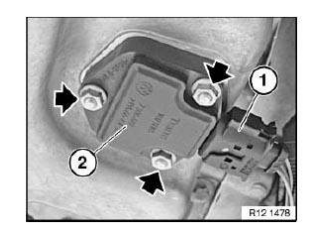 NOTE: Check stored fault message.
Delete fault memory.