BMW X3 Service & Repair Manual: Switches and relays
REPLACING POWER DISTRIBUTION MODULE (N20, N52T, N55)
Necessary preliminary tasks:
Switch off ignition.
Disconnect BATTERY NEGATIVE LEAD .
Remove left service flap on cowl panel cover.
Unlock and pull off all connectors (1) from power distribution module.
Remove cover (2).
Release nut beneath it and set positive battery cable aside.
Release lock (3).
Feed out and remove power distribution module in upward direction.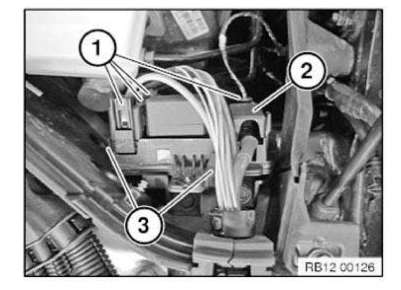 Reassemble the vehicle.