BMW X3 Service & Repair Manual: Removing and installing/replacing oil pressure sensor (N55)
Necessary preliminary work:
Switch off ignition.
Remove IGNITION COIL COVER.
WARNING: Risk of burning! Only perform this repair work on an engine that has cooled down.
Installation location:
Oil filter housing, front left.
Engine oil may emerge when oil pressure sensor is replaced; have a cleaning cloth ready.
Release connector (1) and remove.
Release oil pressure sensor (2).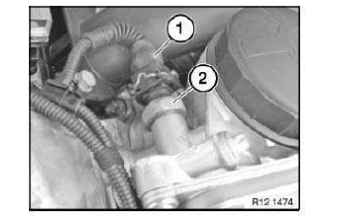 NOTE: Add final details to vehicle Check oil level: Top up engine oil if necessary.