BMW X3 Service & Repair Manual: Removing and installing/replacing oil pressure switch (N47 D20 O1)
IMPORTANT: When working on the oil, coolant or fuel circuit, you must protect the alternator against dirt contamination.

Cover alternator with suitable materials.

Failure to comply with this procedure may result in an alternator malfunction.
Necessary preliminary work:
Remove INTAKE SILENCER HOUSING .
Remove INTAKE PORT .
Remove left TRAILING LINK .
REMOVE left partition wall for units compartment.
NOTE: The oil pressure switch is located beneath the high pressure pump.
IMPORTANT: A small amount of engine oil emerges when oil pressure switch is removed.
Have a cleaning cloth ready.
Release connector and remove.
Release oil pressure switch.
Installation note: Replace sealing ring.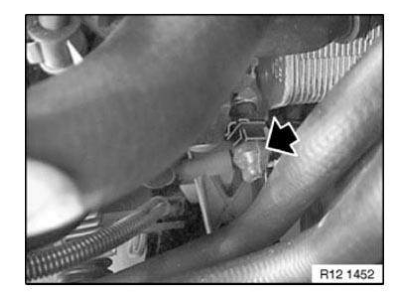 Reassemble the vehicle.
Check engine oil level.