BMW X3 Service & Repair Manual: Transmission case, oil sump
REMOVING AND INSTALLING/SEALING OR REPLACING TRANSMISSION OIL SUMP (GA8HP45Z)
IMPORTANT:

Do not let skin come in contact with transmission oil and do not inhale fuel vapors.

Wear protective gloves.

Ensure adequate ventilation.

IMPORTANT: Remove transmission oil sump only after it has cooled down.

After completion of repair work, check TRANSMISSION OIL LEVEL .

Use only the approved TRANSMISSION OIL .

Failure to comply with this requirement will result in serious damage to the automatic transmission!
Installation note: The transmission oil sump must be renewed every time it is removed.
Necessary preliminary tasks:
If applicable, remove retaining plates (2).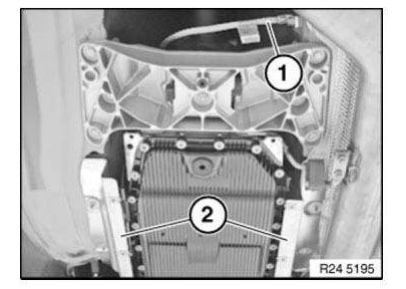 Remove oil drain plug (1).
Drain automatic transmission oil.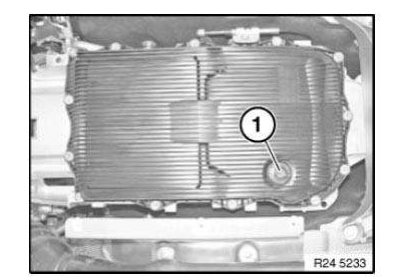 Recycling:
Catch and dispose of escaping transmission oil.
Observe country-specific waste disposal regulations.
Unscrew all bolts.
Remove and renew transmission oil sump.
Clean the contact surface of the transmission oil sump on the transmission.
Installation note: Insert new screws until screw heads make contact.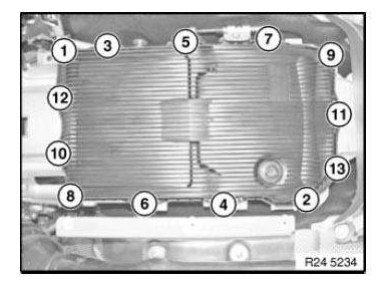 Tighten down screws in sequence 1...13 to specified torque and angle of rotation.
IMPORTANT: Aluminium screws/bolts must be replaced every time they are released.

Jointing torque and angle of rotation must be observed without fail (risk of damage).