BMW X3 Owners Manual: Child restraint fixing system with a tether strap
Mounting points

The respective symbol shows the anchor for the upper retaining strap.
Seats with an upper Top Tether are marked with this symbol. It can be found on the rear seat backrest or the rear window shelf.
Note
Mounting eyelets
Use the mounting eyes only for the upper retaining strap to secure child restraint systems; otherwise, the mounting eyes could be damaged.
Retaining strap guide
Retaining strap
Make sure that the upper retaining strap is not passed over the head restraints or sharp edges and is not twisted up to the upper mounting points; otherwise, the belt cannot properly secure the child restraint system in an accident.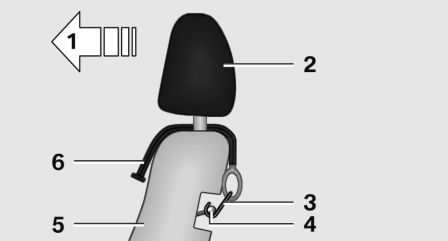 Direction of travel
Head restraint
Hook for upper retaining strap
Mounting point/eye
Seat backrest
Upper retaining strap
Attaching the upper retaining strap to the mounting point
1. Raise the head restraint if needed.
2. Guide the upper retaining strap between the supports of the head restraint.
3. If there is a retaining strap, run it between the backrest and the cargo cover.
4. Attach the hook of the retaining strap to the mounting eye.
5. Tighten the retaining strap by pulling it down.
6. Lower and lock head restraints as needed.