BMW X3 Service & Repair Manual: Replacing rear axle support
WARNING: Danger of injury! Failure to comply with the following instructions may result in the vehicle slipping off the vehicle hoist and critically injuring other persons.
Load the luggage compartment with a minimum of 100 kg before lowering/removing the rear axle support. This prevents the vehicle from tilting or sliding off the vehicle hoist! When supporting components, make sure that:
the vehicle can no longer be raised or lowered
the vehicle does not lift off the locating plates on the vehicle hoist.
IMPORTANT: Before lowering/removing rear axle support: Observe SAFETY INFORMATION for raising the vehicle In order to avoid damage to vehicle hoist, perform weight compensation on vehicle.
Necessary preliminary work:
Remove REAR AXLE FINAL DRIVE.
Remove COMPLETE REAR AXLE CARRIER.
Release RIDE HEIGHT SENSOR WITH JOINTED ROD ON REAR AXLE SUPPORT .
Release both ANTI-ROLL BAR LINKS AT ANTI-ROLL BAR.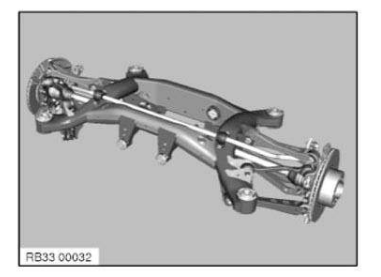 Release both CAMBER ARMS ON REAR AXLE CARRIER.
Release both TOE LINKS ON REAR AXLE CARRIER.
Release both TRAILING ARMS ON REAR AXLE CARRIER.
Release both CONTROL ARMS ON REAR AXLE CARRIER.
Release both WISHBONES ON REAR AXLE CARRIER.
Remove both wheel carriers with output shaft, all arms, anti-roll bar link and brake disc.
Release ANTI-ROLL BAR.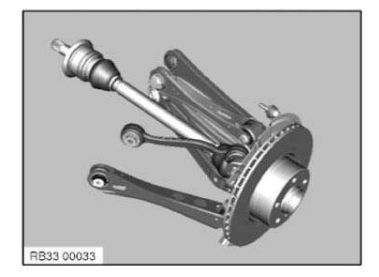 Take rear axle support down from special tool with assistance of a 2nd person and set down on a suitable surface.
Installation note:
Use previous rear axle support as a template for modifying or replacing small parts.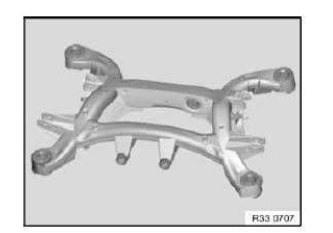 After installation:
Carry out wheel alignment procedure .