BMW X3 Service & Repair Manual: Notes on checking steering backlash on vehicles with rack-and- pinion steering
NOTE: The evaluation "steering backlash" is made usually when the front axle is raised, where the track rod is angled.
The force introduced via the track rod is divided into a horizontal force and a vertical force relieving the thrust member (1) against the spring (2).
The steering box is depressurized on account of no hydraulic assistance due to engine standstill and is thus not preloaded! The play created in this way is incorrectly referred to as steering backlash.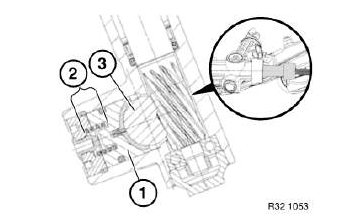 3 = Rack
Solution:
1. Check the tie rod backlash only in loaded condition or in the design position.
2. Checking with front axle raised:
To evaluate the play of the steering gear, it is necessary to pressurize the steering gear via its servo system!
The combustion engine must be running during hydraulically or electrically assisted steering for this purpose
Desired state: The steering must be backlash-free in all components!