BMW X3 Service & Repair Manual: Replace electrical steering gear (eps) (N20/N47)
IMPORTANT: Connecting line: In the event of moisture/corrosion inside the two plug connections, check the insulation of the connecting line. If the insulation reveals any noticeable/striking features, partial replacement will be necessary. Otherwise it will be sufficient to replace the contacts or connector housing.
NOTE: In a warranty case you must always provide a fault memory printout, even where there is no fault entry, with the defective part.
IMPORTANT: Do not turn the steering wheel once the steering shaft has been detached from the steering gear.

If the lower section of the steering shaft is separated from the steering gear, the steering column switch cluster may be damaged when the steering wheel is turned.
Necessary preliminary tasks:
Disconnect BATTERY EARTH LEAD .
NOTE: High-current-carrying wiring laid with permanent positive connection (80 A fuse).
Remove UNDERBODY PROTECTION .
Remove FRONT WHEEL on the left and right.
Release LEFT WISHBONE at front axle carrier.
Release LEFT TENSION STRUT at front axle carrier.
Release LEFT AND RIGHT TRACK ROD END at swivel bearing.
Release ANTI-ROLL BAR LINK at antiroll bar, left and right.
Release ANTI-ROLL BAR at front axle carrier, left and right.
Release BOTTOM OF STEERING SHAFT AT STEERING BOX.
Unlock plug connections (1) and disconnect.
Unfasten screws (2).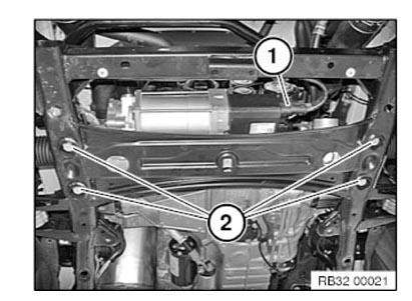 IMPORTANT: Risk of damage! Pay attention to connector housing on steering box while removing steering box! Press back spring strut a little.

Hold up anti-roll bar.

Carefully remove steering box towards left-hand side.
Installation note: Remount TRACK ROD END on left and right.
After installation:
Turn steering wheel in both directions to the limit position. The airbag indicator light must not light up in the process.
Carry out PROGRAMMING/ENCODING .
Teach in END STOP SOFTWARE.
Perform CHASSIS/WHEEL ALIGNMENT CHECK.