BMW X3 Service & Repair Manual: Removing and installing/replacing lower section of steering column shroud
Necessary preliminary work:
Remove TOP SECTION OF STEERING COLUMN CASING.
Move steering column in "top" and "extended" position.
Press retaining lugs outwards a little and unclip steering column shroud downwards.
Installation note:
Align steering column shroud by means of retaining lugs to steering column and press up as far as it will go.
Press steering column shroud on both sides together a little and then press upwards completely until retaining lugs snap into place.
Check installation position, correct if necessary.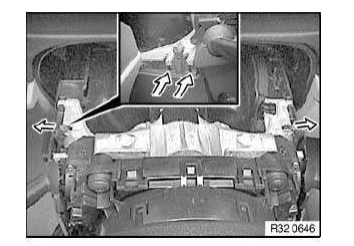 Tilt steering column shroud in downward direction.
If necessary, unlock plug connection (1) on steering column adjustment switch and (2) emergency starting aerial and disconnect.
Remove steering column shroud lower section.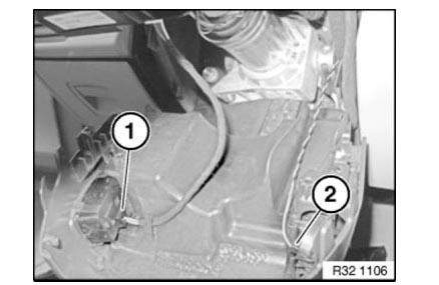 REMOVING AND INSTALLING/REPLACING STEERING ANGLE SENSOR
NOTE: The steering angle sensor is integrated in the EPS steering gear!