BMW X3 Service & Repair Manual: Removing and installing/replacing steering wheel
NOTE: Chassis/wheel alignment is not necessary after the steering wheel has been removed and installed or replaced.
Necessary preliminary work:
Move wheels/steering wheel into straight-ahead driving position.
Disconnect plug connection.
Release screw (1) and remove steering wheel.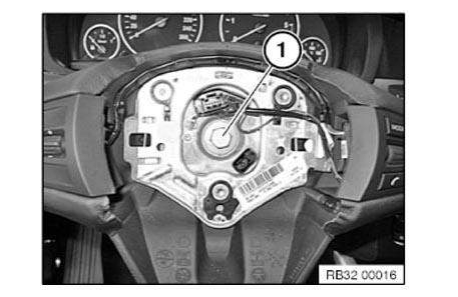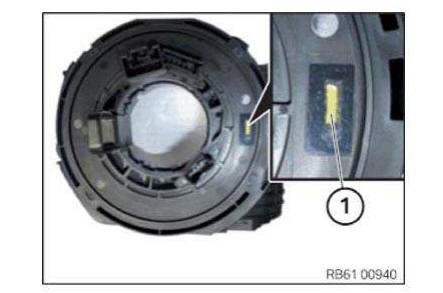 NOTE: There are clock springs installed with and without a mechanical anti-twist lock.
Clock spring without mechanical anti-twist lock: (recognizable at the inspection glass for the mark of the neutral position)
Do not twist the clock spring.
Check zero position of clock spring on steering column switch cluster.
Zero position is correct only when yellow mark (1) is clearly visible!
Installation note:
Before fitting steering wheel on steering column, ensure correct cable routing.
Align steering wheel by way of marking (1) to steering column marking (2) and attach.
Replacement:
Modify design cover.
Modify multifunction steering wheel switch.
If necessary, modify steering wheel electronics module control unit.
REPLACING DESIGN COVER FOR SPORT STEERING WHEEL
NOTE: Procedure is described under removing SWITCHES for multifunction steering wheel.