BMW X3 Service & Repair Manual: Removing and installing/replacing airbag unit (sports steering wheel)
WARNING: Observe the following instructions to avoid any risk of injury by the airbag unit.
Comply with safety regulations for handling components with gas generators.
Do not exert any force on the airbag unit.
Use only specified release tool for the airbag unit.
NOTE: Incorrect handling may result in triggering of the airbag unit and thereby cause serious injury.
IMPORTANT: Steering wheel . Follow PROCEDURE AFTER AIRBAG DEPLOYMENT.
Necessary preliminary work:
Disconnect BATTERY EARTH LEAD .
Insert Torx screwdriver (T25) (2) at an angle into concealed opening on reverse side of steering wheel until a spring resistance is felt (approx. 1.5 cm).
Press spring leg (1) inward until airbag is unlocked.
Repeat procedure on other side.
Installation note:
Make sure electrical leads are correctly positioned.
Snap airbag unit with uniform pressing force plane-parallel in direction of steering column shaft into steering wheel.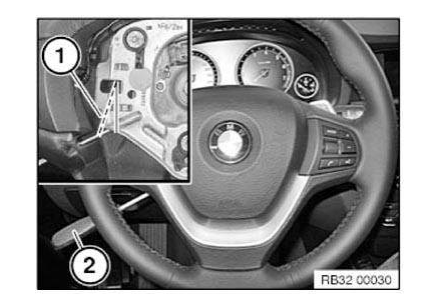 WARNING: Danger of injury! The airbag unit may only be set down with the airbag itself facing up .
Tilt airbag unit forwards.
Disconnect plug connections and remove airbag unit.
Installation note: Connect plugs to connections of same color on airbag unit.