BMW X3 Service & Repair Manual: Extension housing, bearings, seal
REPLACING OUTPUT FLANGE RADIAL SHAFT SEAL (GA8HP45Z) (AWD)
Special tools required:
IMPORTANT: After completion of repair work, check TRANSMISSION OIL LEVEL .
Use only the approved TRANSMISSION OIL .
Failure to comply with this requirement will result in serious damage to the automatic transmission!
Necessary preliminary tasks:
Drive a hole into radial shaft seal (1) using a center punch.
IMPORTANT: Do not use a drill as swarf may result in transmission malfunction.
Thread special tool 23 0 490 into radial shaft seal (1).
Drive out radial shaft seal (1) with impact weight (2).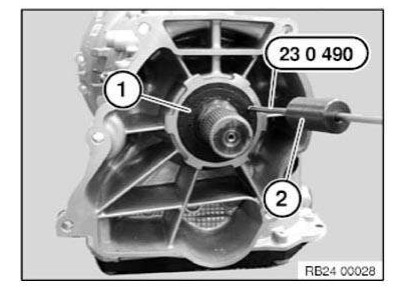 Installation note:
Coat sealing lips of new radial shaft seal with clean transmission oil.
Radial shaft seal firmly home with special tool 23 3 220 .