BMW X3 Service & Repair Manual: Manually releasing parking lock (from vehicle underbody) transmission GA8HP
For various tasks, it is necessary to unlock and lock the parking lock.
This can be done from inside the passenger compartment or underneath the vehicle.
Before releasing the parking lock, secure the vehicle against rolling away.
In the event of a power supply interruption, e.g. flat battery or electrical fault, the parking lock must be manually released, otherwise the wheels will be locked and the vehicle cannot be moved.
Manual emergency release of parking lock from passenger compartment is not possible with GA8HP transmissions for:
F01/F02/F03/F04 GA8HP from production date 09/2010
F07 GA8HP from production date 03/2010
F10/F11 GA8HP as from production date 06/2010
Before removing the underbody panel, always check inside the vehicle to be certain the parking lock emergency release is not fitted.
From the vehicle underbody: Raise vehicle.
Manual emergency release of parking lock
Remove underbody protection
Screw in screw (1) with hexagon socket (SW5) until parking lock is released by lever (2).
It is imperative that bolt is always replaced.
Clean thread with screw tap size M6X1, 0.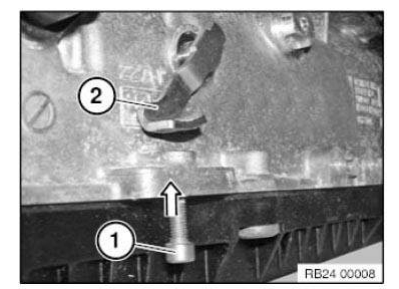 Screw new microencapsulated screw (1) into thread.
IMPORTANT: Screwing in and adjusting of screw to 1.5 to 2.5 mm above thread lip (A) must occur within 3 minutes.

The screw may no longer be turned after 3 minutes (hardening of adhesive), otherwise it must be replaced.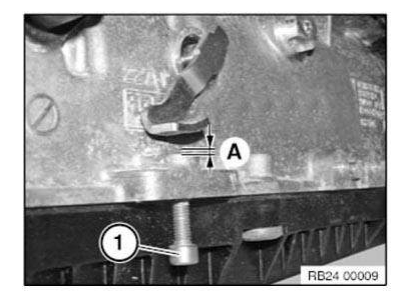 From passenger compartment:
If permanent release is desired, fix lever in position (e.g. with cable strap).
Locking:
Let go of release lever (3) or undo means by which it is secured.