BMW X3 Service & Repair Manual: Notes on mechatronics (GA8HP45Z, GA8HP70Z, GA8HP90Z)
Special tools required:
IMPORTANT:

Do not let skin come in contact with transmission oil and do not inhale fuel vapors.
Wear protective gloves.
Ensure adequate ventilation.

IMPORTANT: After completing work:

Load specific data status with the BMW diagnosis system
Check TRANSMISSION OIL LEVEL
Use only approved TRANSMISSION OIL .
Failure to comply with this requirement will result in serious damage to the automatic transmission!
IMPORTANT: Read and comply with notes on PROTECTION AGAINST ELECTROSTATIC DISCHARGE (ESD PROTECTION) .
Unscrew connector (1) and disconnect.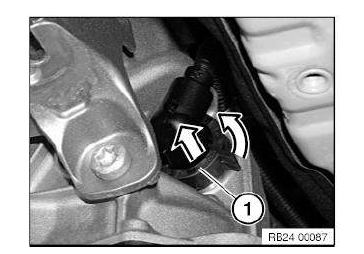 Insert special tool 24 2 390 in sealing sleeve (1).