BMW X3 Service & Repair Manual: Removing and installing/replacing torque converter (GA8HP45Z) (N20)
Special tools required:
00 2 550
24 4 000
24 1 440
IMPORTANT:

Do not let skin come in contact with transmission oil and do not inhale fuel vapors.
Wear protective gloves.
Ensure adequate ventilation.

IMPORTANT: After completion of repair work, check TRANSMISSION OIL LEVEL .

Use only approved TRANSMISSION OIL .

Failure to comply with this instruction will result in serious damage to the transmission.
Necessary preliminary tasks:
Remove AUTOMATIC TRANSMISSION.
Fit special tool 24 1 440 in torque converter.
Remove torque converter.
NOTE: When torque converter is removed, transmission oil flows out.
Place torque converter vertically.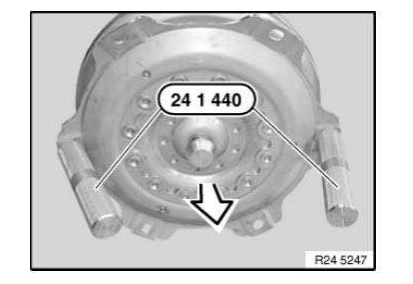 Installation note:
When installing, do not damage radial shaft seal and bearing.
If the torque converter is not correctly installed, the driver of the pump impeller may be damaged when the transmission is flanged to the engine.
Installation note:
O-ring on drive shaft, must be replaced when exchanging the torque converter.
Push torque converter through radial shaft seal onto transmission shaft to the limit position.
Press torque converter by hand into converter housing and turn in the process. Converter hub recess must snap into place in driver of pump impeller. Torque converter must be felt to slip inwards.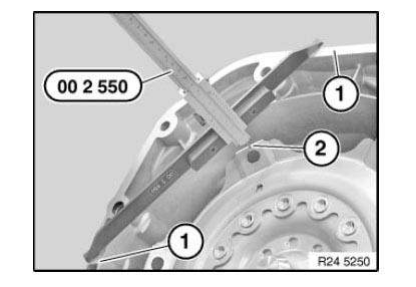 Determine distance between contact surface (1) and outer edge (2) of hole in torque converter with special tool 00 2 550 .
NOTE: The measured value must be ≥ 25 mm.