BMW X3 Service & Repair Manual: Replacing radial shaft seal for drive flange (atc 450)
Special tools required:
IMPORTANT: After completion of work, CHECK TRANSMISSION OIL LEVEL and top up if necessary.

For this transfer box, use approved TRANSMISSION OIL only.
Necessary preliminary tasks:
Drive a hole into radial shaft seal (1) using a center punch (2).
IMPORTANT: Do not use a drill as drillings may result in transmission malfunction.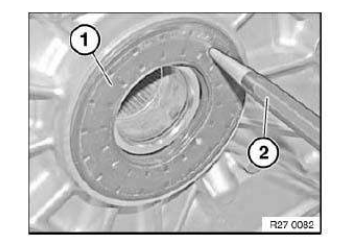 Screw special tool 23 0 490 into radial shaft seal.
Drive out radial shaft seal (1) with impact weight (2).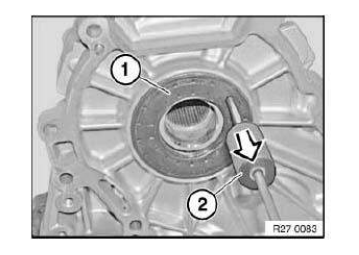 Installation note:
Coat sealing lips of new radial shaft seal with clean transmission oil.
Drive in radial shaft seal with special tool 27 1 430 .
Reassemble the vehicle.
Check oil level.
Check transmission for leaks.