BMW X3 Owners Manual: Programmable memory buttons
General information
The iDrive functions can be stored on the programmable memory buttons and called up directly, e.g., radio stations, navigation destinations, phone numbers and menu entries.
Settings are stored for the profile currently in use.
Without navigation system and telephone Only radio stations can be stored on the buttons, refer to user's manual for Navigation, Entertainment, Communication.
Saving a function
1. Highlight the function via the iDrive.
2.

Press and hold the desired button, until a signal sounds.
Running a function

Press button.
The function will work immediately.
This means, e.g., that the number is dialed when a phone number is selected.
Displaying the button assignment
Touch buttons with bare fingers. Do not wear gloves or use objects.
The key assignment is displayed at top edge of screen.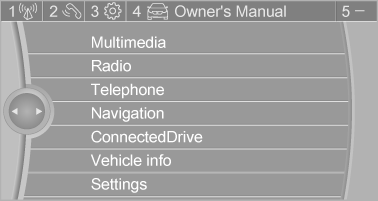 Deleting the button assignments
1. Press buttons 1 and 8 simultaneously for approx. five seconds.
2. "OK"