BMW X3 Owners Manual: Setting the voice dialog
Set system to standard dialog or use a short version.
The short version of the voice dialog plays back short messages in abbreviated form.
1. "Settings" 2. "Language/Units" 3. "Speech type:" 4. Select setting.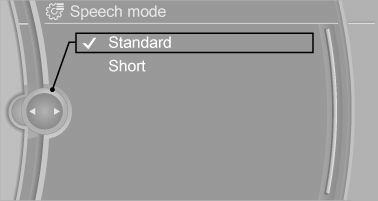 Adjusting the volume
Turn the volume button while giving an instruction until the desired volume is set.
The volume remains constant even if the volume of other audio sources is changed.
The volume is stored for the profile currently in use.
Hints on Emergency Requests
Do not use the voice activation system to initiate an Emergency Request. In stressful situations, the voice and vocal pitch can change.
This can unnecessarily delay the establishment of a phone connection.
Instead, use the SOS button, close to the interior mirror.
Environmental conditions
Say the commands, numbers, and letters smoothly and with normal volume, emphasis, and speed.
Always say commands in the language of the voice activation system.
Keep the doors, windows, and glass sunroof closed to prevent noise interference.
Avoid making other noise in the vehicle while speaking.