BMW X3 Owners Manual: Socket for OBD Onboard Diagnosis
Note
Socket for Onboard Diagnosis
The socket for onboard diagnostics may only be used by the service center or a workshop that operates in accordance with the specifications of the vehicle manufacturer with correspondingly trained personnel and other authorized persons. Otherwise, use may result in operating problems for the vehicle.
Position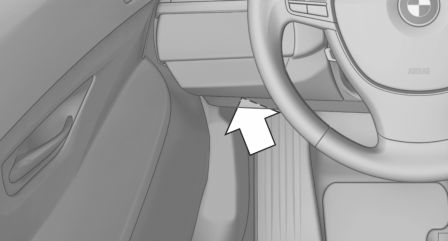 There is an OBD socket on the driver's side for checking the primary components in the vehicle's emissions.
Emissions

The warning lamp lights up: Emissions are deteriorating. Have the vehicle checked as soon as possible.
The warning lamp flashes under certain circumstances: This indicates that there is excessive misfiring in the engine.

Reduce the vehicle speed and have the system checked immediately; otherwise, serious engine misfiring within a brief period can seriously damage emission control components, in particular the catalytic converter.