BMW X3 Owners Manual: Remote control/key
General information
The vehicle is supplied with two remote controls with integrated key.
Every remote control holds a replaceable battery.
You may set the key functions depending on the optional features and country-specific version.
The vehicle stores personal settings for every remote control. The remote controls hold information on required maintenance. Service data in the remote control.
Overview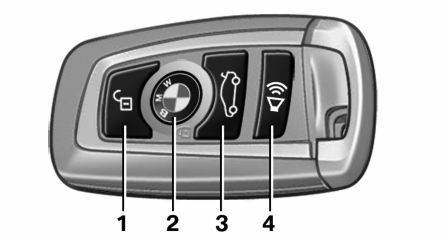 Unlocking
Locking
Unlock the tailgate
Press briefly: headlight courtesy delay feature
Press and hold: Panic mode
Integrated key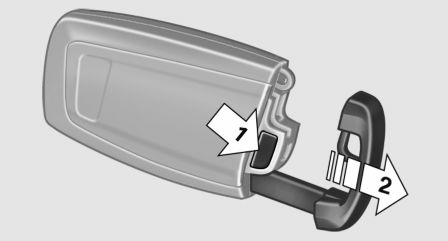 Press button, arrow 1, and remove the key, arrow 2.
The integrated key fits the following locks:
Driver's door.
Glove compartment on the front passenger side.
Replacing the battery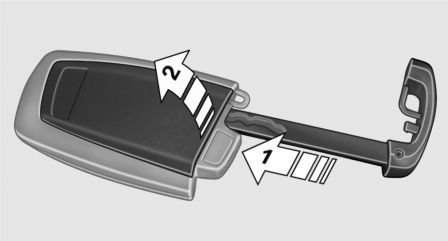 1. Remove integrated key from remote control.
2. Push in the catch with the key, arrow 1.
3. Remove the cover of the battery compartment, arrow 2.
4. Insert a battery of the same type with the positive side facing up.
5. Press the cover closed.

Take the used battery to a recycling center or to your service center.
New remote controls
New remote controls are available from the service center.
Loss of the remote controls
Lost remote controls can be disabled by your service center.
Emergency detection of remote control
It is possible to switch on the ignition or start the engine in situations such as the following:
Interference of radio transmission to remote control by external sources e.g., by radio masts.
Empty battery in remote control.
Interference from radio transmissions through mobile devices in close proximity to remote control.
Interference of radio transmission by charger while charging items such as mobile devices in the vehicle.
A Check Control message is displayed if an attempt is made to switch on the ignition or start the engine.
Starting the engine with emergency detection of the remote control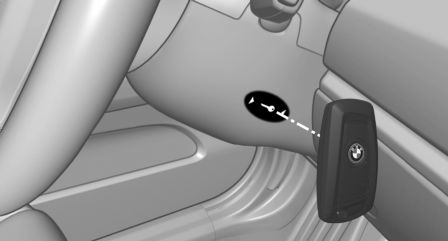 Steptronic transmission: if a corresponding Check Control message appears, hold the remote control, as shown, against the marked area on the steering column and press the Start/Stop button within 10 seconds while pressing the brake.
If the remote control is not recognized: slightly change the height position of the remote control and repeat the procedure.