BMW X3 Owners Manual: From the outside
Locking from the outside
Do not lock the vehicle from the outside with people inside the car, as the vehicle cannot be unlocked from inside without special knowledge.
Remove the key before pulling the door handle
Before pulling the outside door handle, remove the key to avoid damaging the paintwork and the key.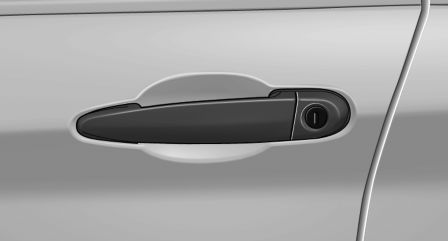 Unlock or lock the driver's door via the door lock using the integrated key.
The other doors must be unlocked or locked from the inside.
Alarm system The alarm system is not armed if the vehicle is locked with the integrated key.
The alarm system is triggered when the door is opened, if the vehicle was unlocked via the door lock.
In order to terminate this alarm, unlock vehicle with the remote control or switch on the ignition, if needed, through emergency detection of the remote control.