BMW X3 Service & Repair Manual: Replace B-pillar, outer left
Procedure OBSERVE repair stage 3!
Read contents of BODY, GENERAL.
Use only an approved SPOT-WELDING APPARATUS for repairs! Following new body parts are required (see OVERVIEW OF CONSUMABLES):
(1) A-pillar with entrance
Shaped part, B-pillar bottom outside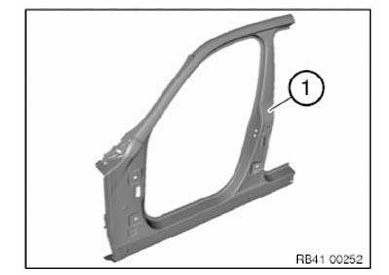 Removal: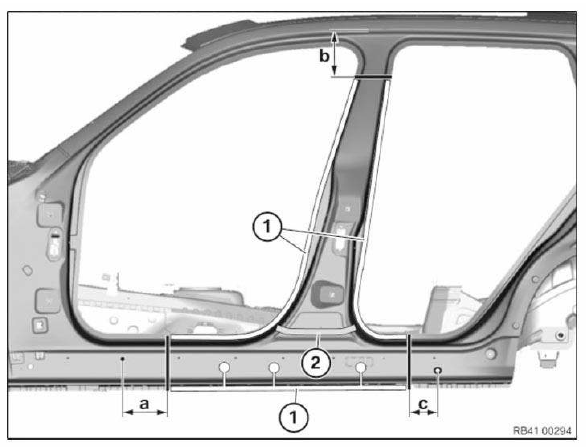 Mark severance cuts in accordance with specified dimensions and cut.
IMPORTANT: Cut outer panel only for following severance cuts.
Dimension a = approx. 180 mm after center point of Ø 8 mm hole.
Dimension b = approx. 175 mm from edge of roof frame.
Dimension c = approx. 180 mm from center point of Ø 20 mm hole.
Open welded connections in areas (1).
Release A-pillar from cavity sealing (2) and remove.
Preparation of new part: Mark severance cuts on new parts in accordance with severance cuts on vehicle and cut.
Prepare REINFORCEMENT PLATES at severance cuts.
Installation: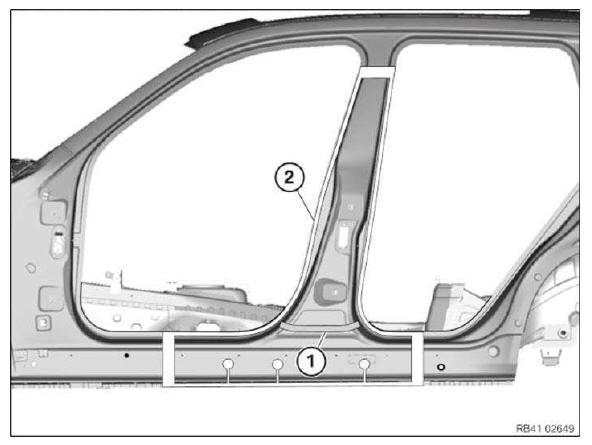 Apply sealant to cavity sealing .
Install new parts and reinforcement plates and weld to designated area (2).