BMW X3 Service & Repair Manual: Adjusting engine compartment lid
IMPORTANT: Do not damage adjoining body components! Minor corrections (realignment work) are permitted if the existing adjustment options are not sufficient.
Observe GAP DIMENSIONS.
NOTE: Stop screw must not be damaged or missing. If necessary, replace engine compartment lid hinge.
The stop screw is preset and must not be used to adjust the engine compartment lid!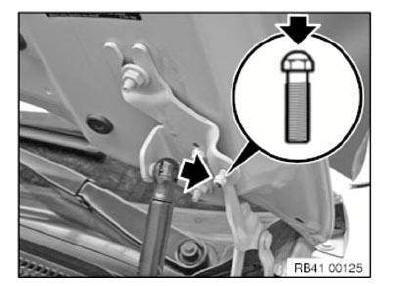 Slacken nuts (1) of hinges on left and right.
Engine compartment lid must be able to be moved.
NOTE: If adjustment range is not sufficient, slacken screws on body and slide hinge.

(Refer to operation: Height adjustment at hinge)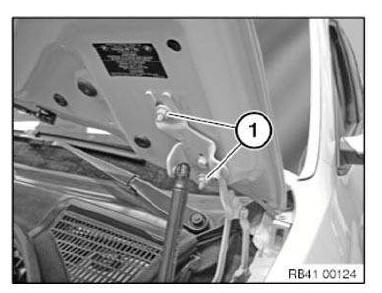 Adjust engine compartment lid sideways and lengthways.
Strikers must snap into place in engine compartment lid catch.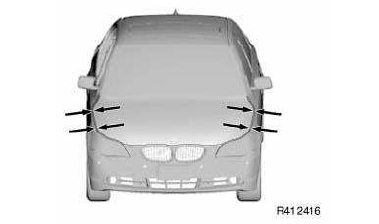 Height adjustment at hinge: Slacken screws (1) and adjust engine compartment lid.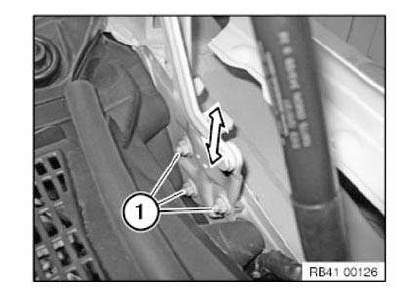 Height adjustment at strikers: Unclip the anti-twist lock (1).
Adjust height by turning the striker (2).
Height adjustment of engine compartment lid to side panel by means of STOP PAD.
NOTE: The engine compartment lid is correctly adjusted in the front section by a combination of pulling the strikers and pressing the stop pads.
Incorrect adjustment results in either wobbling of the engine compartment lid or sluggish unlocking.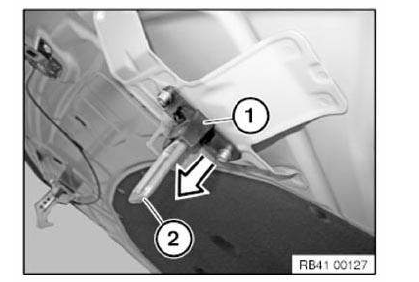 IMPORTANT: Check function of retaining hook.
After Installation note:
Tighten all screws and nuts to specified torque.
Touch up unpainted surfaces in the appropriate colour.
If necessary, adjust front side panels.