BMW X3 Service & Repair Manual: Adjusting tailgate
IMPORTANT: Do not damage adjoining body components.

Minor corrections (realignment work) are permitted if the existing adjustment options are not sufficient.
Read contents of BODY, GENERAL.
Observe GAP DIMENSIONS.
The tailgate must be provided with all attachment parts for correct adjustment.
Version with automatic tailgate actuation:
Disable automatic tailgate actuation: Separate plug connection at CONTROL UNIT for automatic rear lid actuation.
IMPORTANT: Risk of damage to spindle drive: only move tailgate slowly by hand.
Necessary preliminary tasks:
Remove TRIM PANEL FOR REAR WINDOW FRAME .
NOTE: When the tailgate is closed, the lock striker must not touch or scrape against the tailgate lock.
Apply systematic figure to vehicle.
Adjusting tailgate laterally and in longitudinal direction: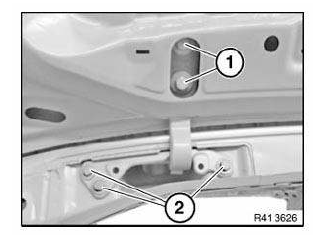 Slacken screws (1) on rear lid hinge to rear lid until such stage that rear lid can still be moved.
Adjust tailgate.
Height adjustment of rear lid to roof: Slacken screws (2) and adjust rear lid.
Check holder (1) left and right for damage, replace if necessary.
If necessary, adjust REAR LID STOP in water channel.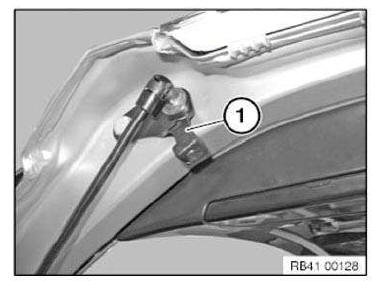 After Installation note:
Tighten all screws and nuts to specified torque.
Touch up unpainted surfaces in the appropriate colour.
If reversing camera optional equipment installed: Calibrate REVERSING CAMERA .